In honor of National Technology Day, we've put together a list of apps we use that definitely make our work better and lives easier.
Quick note: All of these apps have free plans, but there are paid versions with additional features.
Fathom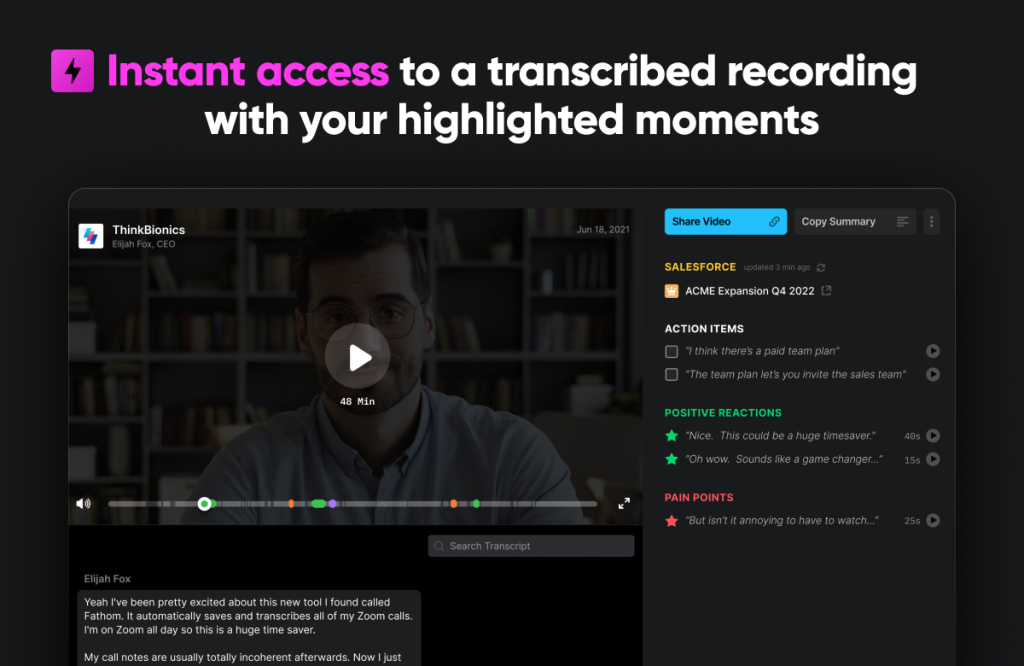 If you've been on a Zoom call with me over the last year, you've seen my Fathom notetaker. It's also been my nerdy go-to conversation starter, "Do you use Fathom on Zoom?"
Before Fathom, taking notes during a Zoom call was messy and sharing a Zoom video was even more challenging. But with Fathom, all of that is extremely easy.
When you install Fathom and begin a Zoom meeting, you'll notice that it will join your Zoom room as an additional user. Once you've added it to the Zoom room, you'll have a Fathom navigator appear on your screen. The navigator allows you to mark specific timestamps and add notes in your meeting.
As soon as the meeting is over, the meeting recording is available in Fathom's cloud with a full transcript (the whole thing is usually ready within two minutes — depending on the meeting length).
I could say a lot more. But if you use Zoom, you need to use Fathom.
Fathom is currently 100% free with no paid options.
Click here to visit Fathom.
Canva

I used to design a lot of collateral and images with programs like Adobe's InDesign and Photoshop. But now that we have Canva, I've dropped both of those programs.
The amount of templates, free designs and icons, and basic image editing you can do in Canva is amazing.
If you ever design PowerPoint slides, basic logos or branding materials, social media posts, or just about anything else, you should check out Canva.
You can do a lot with Canva for free. But they do have a paid version that gives you access to additional features, templates, and icons.
Click here to visit Canva.
Slack
I can't imagine what our team would do without a tool like Slack. Maybe we would email each other 85 times a day? Gross.
Slack is a great way to quickly stay in touch with your team throughout the day.
If you manage a team of marketing directors and sales people, Slack would be a great place for all of you to share ideas, solve challenges, and encourage each other without sending an email.
Slack is free but also offers a paid version.
Click here to check out Slack.
ClickUp

I used to put my daily tasks on paper, but I would often forget recurring tasks or leave my desk to work at a coffee shop and forget what I wrote down.
With ClickUp, I can view my tasks on my laptop, tablet, and phone. I can create recurring tasks, automate tasks through Zapier (that's the next app I'm mentioning), and set a content calendar.
ClickUp is also a great way to stay accountable with a team or share a task with a team member.
ClickUp is free but also offers a paid version.
Click here to view ClickUp.
Zapier or Make

Have you ever wondered, "There has to be a really easy way to easily connect software and apps without having to know any kind of code."
If so, Zapier or Make is your answer.
Zapier and Make essentially do the same thing, but we use both of them in our business because they each work with apps that the other doesn't work with.
You can do things like:
Automatically add new leads from Facebook into an email campaign service like Mailchimp.
Automatically add specific email addresses to calendar invites.
Automatically add tasks to your favorite task managers like ClickUp.
The possibilities are endless.
They both offer free and paid versions.
Click here to view Zapier or click here to view Make.
Notability

If you enjoy attending conferences and taking notes on an iPad, you should download notability.
Notability offers the features of a typical note-taking app with the ability to record audio at the same time. It will timestamp your notes to line up with the audio. For example, if the speaker says something that you write down, when you go back and listen to the audio later and want to skip to the part when the speaker said that one thing, you can just click on the note you wrote and it will jump ahead to that section.
They simply call it: Audio-recording synced to your notes.
Notability offers a free and paid version.
Click here to view Notability.
We use a ton of software and apps, but these are a few of our favorites. If there is a big one we missed, you should let us know!